---
A sunglasses startup that was launched by a well-known St. Louis inventor but laid dormant for several years is now seeing new light.
Popticals, which sells collapsible sunglasses, has returned to operations under new ownership. St. Louis-based husband-and-wife duo Gary and Dana DiSalvo relaunched sales of Popticals' sunglasses after acquiring the business in December 2022 from an entity affiliated with David Porter. Financial terms of the deal were not disclosed.
Porter founded Popitcals, which had its sunglasses commercialized in 2016. It marked the latest venture for Porter, who created pet shedding tool FURminator and sold it twice. Porter had grown Popticals such that its sunglasses were sold in 100-plus retailers nationwide, but the company in 2018 stopped sales and ceased operations due to a divorce and division of assets between Porter and his ex-wife, he previously told the St. Louis Business Journal.
The DiSalvos said in an interview they had sought out a business to buy and operate together, leading to the relaunch of Popticals. Gary DiSalvo previously worked in the financial services sector, holding roles with TD Ameritrade and Scottrade. Dana DiSalvo also previously worked in financial services but in recent years ran her own e-commerce gifting company, This and That Solutions LLC.
"I found myself getting more and more excited working with her from time to time and helping her grow that. So we had been talking for a long time about trying to do something together down the road, whether it would be growing her business more or something new altogether," Gary DiSalvo said.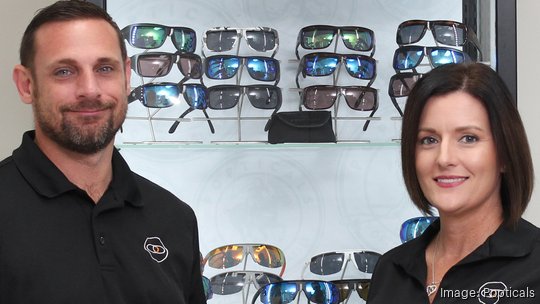 While a sunglasses company initially wasn't on the DiSalvos' radar, Gary DiSalvo said Popticals caught the couple's eye because of the quality and innovation behind its products.
"It was really hard to pass up," he said.
Popticals' product portfolio includes 10 different collections of sunglasses geared toward outdoor enthusiasts and athletes. The company describes itself as a "premium" sunglasses brand, highlighting its products' portability, lightweight lenses and durability. Its sunglasses, which are made in Italy, have a patented design that makes them collapsible and able to be taken apart to store. Its collection includes specific products designed for the activities of golf, fishing and skiing. The company said those glasses include lens colors and mirroring meant to help golfers and anglers better see water conditions and the greens on a golf course.
After acquiring Popiticals in late 2022, the DiSalvos said they spent nine months putting operations in place, handling items such as vendor partnerships and branding. That has included a new logo that spotlights the portable nature of the sunglasses and a company tagline of "For everywhere you're going." Gary DiSalvo said the tagline highlights Popticals' ambition to broaden its market segment. He said the company previously was heavily focused on marketing to athletes, but DiSalvo said he believes its sunglasses have wide appeal.
"The target market is really anybody who is an outdoor enthusiast," he said.
The months leading up to Popticals' relaunch included forming a growth strategy for the business, the DiSalvos said. They noted their company's patented technology applies to other forms of eyewear, creating opportunities for expansion into eyewear categories beyond sunglasses. The company also wants to expand its collection of sunglasses, the couple said.
"We want to continue to grow the brand and the offering over time," Gary DiSalvo said "Hopefully every few months or so we're able to release something new."
The DiSalvos said sales have exceeded initial expectations since the relaunch of Popticals. They did not disclose specific sales figures. Popticals is currently selling its sunglasses online.
Popticals has its headquarters in Ellisville, and Gary and Dana DiSalvo are currently the company's only full-time employees, serving as CEO and chief operating officer, respectively. Popticals so far has otherwise relied on consultants and about a dozen part-time employees for its operations. Gary DiSalvo said he hopes to be able to convert some of the part-time employees into full-time roles as Popticals grows its revenue.
The DiSalvos said it has been a unique experience relaunching a brand that has already existed, even if it has been inactive for several years. The couple said they've been able to rely on the brand's history, forging partnerships with its past vendors and connecting with former employees to learn more about the business. It even had one of its previously sponsored athletes reach out with interest in getting involved with the brand again, Gary DiSalvo said.
The DiSalvos said their acquisition of Popticals isn't just about their ambition to own a business together. It's also about their commitment to their adopted home of St. Louis. The couple moved here about a decade ago from Florida for a job and at the time expected to move back to Florida.
"We could have moved back to Florida anytime, but because we love St. Louis and the community here, it just made sense to keep our roots here," Dana DiSalvo said.
 This article originally appeared on The St. Louis Business Journal on 10/23/2023.